Friday, March 31, 2006

NYSUT Dude Supports Vouchers
The Chalkboard got lots of feedback on
yesterday's post
about the NYSUT Activist of the Month, Jack Zucchini
(pictured below in the bare feet and funky hat,)
who made the
courageous decision
to put his family on food stamps and pay higher prices for goods and groceries rather than take advantage of the lower prices that WalMart offers. The patriotic act came about after he or one of his other friends saw some NYSUT movie that described how WalMart was all, like, evil and everything.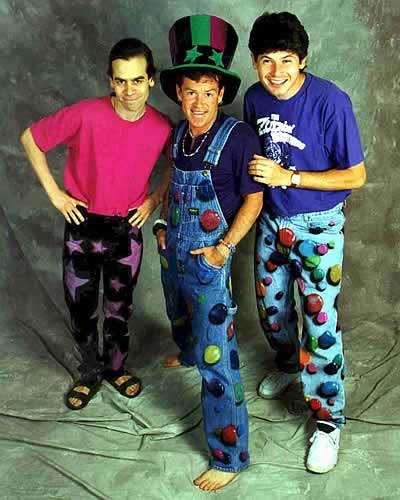 (The Zucchini Brothers (above) Sam, Jack, and Steve. Not clear whether the outfits were purchased back when Jack thought it was cool to shop at WalMart, or after he watched a NYSUT video warning of all the bad things that come from supporting the gigantic retailer.)
A couple of loose-ends from this episode:
-- Yes, yes, yes - food stamps are vouchers and vouchers are indeed risky schemes that divert public money into the pockets of private profiteers who are not accountable to the public, etc. I thought those facts spoke for themselves, by now, but apparently not.
-- NYSUT claims Zucchini earns $70 a day as a substitute teacher and "sometimes he works at a funeral home to make extra money." But if you look closer, you see that his teaching and working with dead people are not his "real jobs." Hopefully, for Mr. Zucchini, the Food Stamp Fraud patrols won't look as closely as some of The Chalkboard's readers. It isn't even entirely clear Mr. Zucchini
qualifies
for food stamps -- unless, of course, he's doing his "real work" on the down-low. (Which means he's not only as entrepreneurial as WalMart executives, he's flirting with Enron-style business ethics.)
Zucchini, as you probably are aware, is really a guitarist in the band
The Zucchini Brothers
. And despite the impression you might get from NYSUT, these chaps appear to be WalMart-inspired capitalists!
When Zucchini and his brothers aren't giving interviews to NYSUT about the importance of paying as much as humanly possible for supplies in their personal lives (with or without food stamps,) they are quietly busy working as musical consultants and performers,
playing gigs
"across the U.S. in schools and festivals, on radio and TV," according to Sam Zucchini's bio page on one of their money-making
side-businesses
. And they certainly aren't lazy. According to their
calendar
, they've got three paid gigs in the next five days alone! (That's what the van is for. Since the van is used primarily for business purposes, there is a special asset classification on the food stamp
application
.)
It looks like an adorable show and I'm sure kids all over the place dig it, but these shows generally aren't
free
. The crafty entrepreneurs also have a nationally-syndicated
satellite and standard
radio show, and have produced
several albums
($13 each, plus shipping, payable by PayPal.) And like old Sam Walton himself, they understand that good marketing is crucial. So they sell a collection of
tee-shirts
, bumper
stickers
, and
videos
.
The Zucchini guys also run a
for-profit, privatized educational program
, where they take work away from public school teachers by coming in and allowing students to "explore the craft of songwriting by writing and recording a song that is uniquely their own, based on a theme or curriculum-related topic." (Special pricing and block booking are available. Note the $450 price tag on one of these lessons, linked above.)
Note: This isn't the first completely bizarre news article written about NYSUT's activist teacher of the year. Check out this
piece
in the Times-Union from a while back. (Yeah, the guy has a real wigwam in his backyard, but this story was about the top-of-the-line,
Gary Fisher mountain bike
he rides to work every day. It's not every day you read about a teacher on food stamps who rides around on a bicycle that costs a
small fortune
in its own right.)
But hey, personal finances are personal finances. Next time you see any of the Zucchini's, be sure to buy them a cold one and thank them for bringing WalMart to its knees.
Disclaimer: The Chalkboard is hosted by the New York Charter Schools Association (NYCSA) as a place where members, public education advocates and others can view and respond to informed commentary on timely public education and charter school issues. The views expressed here are not necessarily the official views of the NYCSA, its board, or of any of its individual charter school members. Anyone who claims otherwise is violating the spirit and purpose of this blog. To comment on anything you read here, or to offer tips, advice, comments, or complaints. please contact TheChalkboard.