Wednesday, June 28, 2006

Axed Teacher: Norma Rae or David Duke?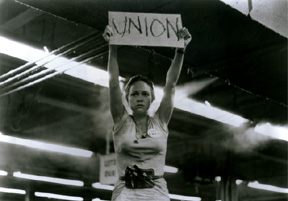 Nicole Byrne Lau, who up until very recently was a teacher at Williamsburg Charter High School in Brooklyn, says she was fired because she distributed information about wage scales for unionized city teachers. Her boss, school CEO Eddie Calderon-Melendez, says she was fired because she is a
racist who hates children
.
Nice. Either way, this one is ugly. And the timing - something UFT President Randi Weingarten understands better than just about anyone on the planet - is impeccable. NY Times version is
here
. NY Sun is
here
. Stay tuned - if this one is for real, there is already a process in place to protect the teacher here, and the school's charter could (and should) be revoked if the allegations of union-busting are true.
As a service to non-unionized public charter school teachers, however, we've posted the NYC teacher salary schedule
here
so you can compare your salary with what the UFT has negotiated. No need to pass out the leaflets yet, just scan it in the privacy of your own home. One interesting point to which the NY Times alluded in its story, and which may explain why Assembly Speaker Sheldon Silver wants to remove the choice of organizing from teachers and make it mandatory in charter schools, is that it could be very difficult to convince teachers above the negotiated pay scales to take a pay cut, and then pay union dues on top of that. If you make unionization mandatory, even if teachers don't want it, you eliminate that problem for the unions.
What an awful way to end the school year, by the way. I'm sure this won't be the last we hear about this case.
UPDATE: Leo Casey
has even more information
on this situation, and it is pretty bad. The teacher seemed to be doing a great job, was highlighted by the chancellor in one of his published letters to the community, etc. Normally, when you read through this kind of stuff, you kind of suspect there is much more to the story on the other side, but all we've gotten so far is the "she's racist and hates kids" line from the charter school CEO. If you've got something better, now is the time to put it on the table... Forget having a teachers
union
in the school, at this point I'm sort of surprised there are any
teachers
in the school. Still, I think Leo is making a stretch when he suggests that all charters need unions just because of one dude who seems to be on an ego trip.
Disclaimer: The Chalkboard is hosted by the New York Charter Schools Association (NYCSA) as a place where members, public education advocates and others can view and respond to informed commentary on timely public education and charter school issues. The views expressed here are not necessarily the official views of the NYCSA, its board, or of any of its individual charter school members. Anyone who claims otherwise is violating the spirit and purpose of this blog. To comment on anything you read here, or to offer tips, advice, comments, or complaints. please contact TheChalkboard.